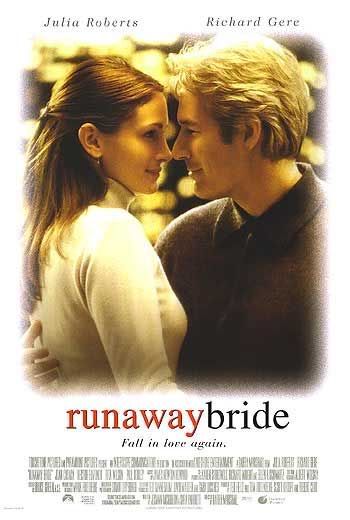 I was on a DVD marathon last weekend and I really can't get over Julia Roberts movie. I mean they all totally rock but my favorite favorite favorite movie is the Run Away Bride. I just can't seem to get over the fact that Julia Roberts and Richard Gere looks good together.
I mean who would even contradict the fact that they are sooooo good looking?!?! anyone!??! raise your hands =) see!!! hahaha! (well this is a monologue, so please don't contradict! LOL)
I love the fact that whenever I watch this movie, I always have this feeling that someday, someone will be there for me... awwww, too mushy =)
The movie is an attention catcher and it makes me glued to my seat although I have watched this movie for like more than 10 times (a few more times that Titanic - now that's a different story).
The plot is good though I am not really aware if there are real life run away brides (i hope there are none!!! it's heart breaking to see a groom cry on the day of the wedding). Plus the fact that it has a gross revenue of US$ 309MM - now that's saying something for a movie (I googled the revenue out).
I am a hopeless romantic and a sucker for happy endings and this is a feel good movie that I very much love not only because of the Julia and Richard chemistry on screen but also of the unforgettable quotes of the film. Does the quote "
Look, I guarantee there'll be tough times. I guarantee that at some point, one or both of us is gonna want to get out of this thing. But I also guarantee that if I don't ask you to be mine, I'll regret it for the rest of my life, because I know, in my heart, you're the only one for me.
"?!?!
Isn't that just too sweet and makes you want to cry. I mean if a guy proposes to me that way (of course not verbatim) i would ultimately say yes. =) It is just so heart warming and so fairy tale like...
The soundtrack is also a plus because the songs were superb!! I actually downloaded the whole soundtrack and included it in my playlist. What really made me smile in the film was when Julia Roberts recited the exact same words as told by Richard Gere in the first part of the movie wherein he said that it is the perfect proposal. At this point in time, I need to feel that there is a love does exist.. I am not a cynic but being boyfriendless for two years is really really catching up on me.. LOL.. =)
I ended up watching all the romance flicks I have in the entire weekend. =) awwww....
have a nice day everyone =)